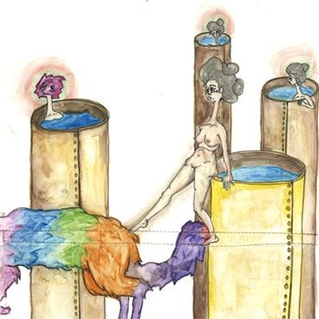 Cecil Frena's future-apocalypto-pop project
Born Gold
(until now known as Gobble Gobble) just released another track from their debut LP,
Bodysongs
, which comes out in little more than a week (Sept. 20) via Hovercraft (their collective with
Purity Ring
and
Kuhrye-oo
) and
Crash Symbols
. I preordered that shit on vinyl, so I'm lucky enough to be downloading the mp3's as we speak. That means a review is coming, so GET READY.
*ahem.*
For fans of "Lawn Knives," arguably their "hit" thus far, "Decimate Everything" is gonna sound pretty familiar. It's in a similar tonality, at a similar tempo, and even the wordless croon of the hook isn't all that different. But there's a hell of a lot more intricacy to the production on this one, and it incorporates some really neat switches between dancey techno and two-steppy half-time.
So you get the point. Get the track,
go preorder the vinyl
if you can't wait two weeks for the mp3's (you now get an instant download if you grab the wax) and accept Born Gold as your new deity. Or just "like" them on
Facebook
.
Born Gold - Decimate Everything
BONUS:
That Way - Born Gold
Love this one. Dark, deep, and driving, with more than a sprinkling of house influence. Who cares if "Decimate Everything" sounds like "Lawn Knives," they've never done ANYTHING like this track.

Alabaster Bodyworlds - Born Gold
Updated take on some classic Gbl.
(( also, you can now like Crustacean Cognition on Facebook!
GO DO THAT SHIT!!
))