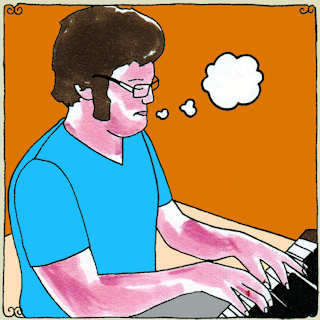 Been waiting for some solid recordings of
Baths
' piano stylings. Mr. Wiesenfeld (see related posts
HERE
) just released
For The Deepest Quiet, It Beats
, a free EP of (mostly) acoustic jams, via indie music haven
Daytrotter
. You have to get an account to download the whole thing, which kinda blows, but here's a sampler (i.e., half the EP). As one might expect, it's freakin' awesome. :D
Reminisce - Baths
{{ GrAnD ~ StAmP ~ oF ~ aPpRoVaL }}
Absolutely beautiful. Simple but poignant vocals, heartstring-pulling chords...this dude is making the music I WISH I could be making right now, and he's been doing so pretty consistently for a good half a year now to boot. Grab this track if nothing else.
The Water (feat. Dosh) - Baths
He introduced this as "The Water, pt. II" when I saw him debut it live last year at a warehouse party in August, presumably because his earlier project,
[Post-foetus]
, also had a track called "The Water." But I guess he's differentiated them. An ode to the element of his namesake, featuring Dosh on drums. Patkins should dig.
The other two tracks on the EP are a wonderful acoustic version of "Plea," and a glitchy beat music jam called "1149k." Both of those are a valid reason to go grab the EP. So you should. Even if you have to input your email address and sign up for yet another meaningless account, remember: it's free, it's good, and it won't take but two minutes. So it must be worth it.
BONUS:
The Water - [Post-foetus]
The "pt. I" of the aqueous (and homonymous) song posted above. From the gorgeous experimental electronic journey known as
The Fabric
, out on
Mü-Nest
. [
iTunes
]