This post has two parts to it - a FIDGET HOUSE portion and an 8-BIT portion... with zips for both.
FIDGET HOUSE
Fidget house pretty much happened in 2009 - by 2010 it was clear that dubstep had taken its mantle of the 'new genre around' and has pretty much owned a lot of the blogosphere's focus this year. Parenthetically, i would mention that i predict the Beat scene that Langosta and I love so much will take over dubstep as the 'new' thing. Anyway, i think its a shame that fidget house is more rare, because there is no denying how funky it is to put a wobble bassline under a house beat. Luckily, its not COMPLETELY dead, and this post is proof. I spotlight two duos - Jack Beats and 2 Bit Thugs - who are pretty much champs of the genre (along with names like AC Slater). Be sure to check out the zip too, because i have included some special gifts [read: random cool shit].
I Don't Want To (JB Dub edit) - Example
THIS IS EPIC. the drop pretty much smacks you in the face with wobbly undulating low end. it makes you unable to not dance. yep.
Insane In The Brain (2 Bit Thugs Remix) - Cypress Hill
2 Bit Thugs essentially remix rap, creating a genre called bmore. i still consider it fidget house.. this has a 2 minute intro with a rap breakdown and everything... its a great use of the original song. And of course, the bass. what can i say. LOVE IT

Shutterbug (JB Remix) - Big Boi
This isn't as good as the above, but still worth having. Theres another one of those rap breakdowns towards the second drop... again, awesome. check it.
Ba Bada (2 Bit Thugs Bootleg) - Jackinori
This IS SIMILARLY EPIC. absolutely sick bassline, and interesting eastern vocals at the opening... i love this too.

Special Gifts (Zip ONLY)
One (Foals Remix) - Swedish House Mafia
YEP. INDIE BAND DOES SHM. A Foals remix of One (the vocal version, obviously). Very entertaining/worth having.
The Kids Don't Stand A Chance (Miike Snow Remix) - Vampire Weekend
I like Miike Snow and I (don't hate me) like Vampire Weekend. So... anyway. this works really well.. arpeggiated, low-end heavy synth pop awesomeness. Sick on a good subwoofer.. in a dorm room...
Fidget + Special Gifts ZIP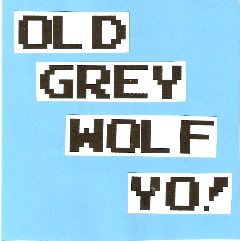 8-Bit
it lives!
this part of the post is about Old Grey Wolf, an indie 8-bit producer from New Zealand. I'm giving you his free demo of music. He performs live with his own hand-built chipsets and everything.. its really cool. This is fun stuff to play to confuse people or yourself.. or just to rock out in the mornings. Enjoy
Old Grey Wolf Demo Zipp
Anyway, thats all for now... thank god i finally got this up!
///patkins///
PS: Seeing Passion Pit tomorrow, Jack Beats Thursday, and partying Friday. Expect some reviews once the hangover is gone.